Post-Partum Depression Counseling in Broken Arrow for Tulsa Area Residents
Disclaimer: The article below is for informational purposes only and should not be considered as direct advice, a personal diagnosis, or as an individual treatment plan. Always consult with a mental health professional or medical doctor if you have concerns.
Introduction and Overview
Postpartum Depression (PPD) is a severe form of depression that affects women after they give birth. Usually, it occurs a few hours later or in the first 4 weeks after birth, but there are cases when it begins one year later. In general, 50 to 70 percent of the general population of pregnant women experience a short period of depression after birth, a condition known as the "post-partum blues," which goes away without treatment.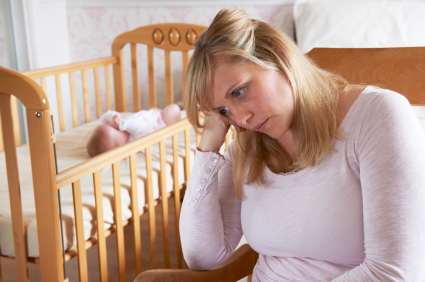 A post-partum blue is characterized by feelings of anxiety, tearfulness, irritation, and restlessness. However, eight to 20 percent of the women that gave birth go on to develop a more serious condition called postpartum depression.
Postpartum depression symptoms include: sluggishness, fatigue, exhaustion, hopelessness, appetite and sleep disturbances, agitation and irritability, difficulty concentrating and thinking, uncontrollable crying, mood swings (highs and lows), feelings of worthlessness or guilt, lack of interest in the baby, inability to connect or bond with the baby, negative feelings towards the baby or intrusive thoughts of harming the baby, excessive preoccupation with the child's health, loss of interest in things that were pleasurable in the past, loss of energy, social withdrawal, and even thoughts of death or suicide.
The exact causes that trigger postpartum depression are not known, but clinical experience and medical research suggests there are three major factors involved:
Hormonal changes (a woman experiences major hormonal fluctuation after giving birth to a baby. The level of serotonin decreases after delivery).
Situational risks (giving birth to a child represents a major change and transition in a woman's life and can cause a lot of stress).
Life stresses (ongoing stressful events increase the pressure a pregnant woman feels, a situation that can lead to postpartum depression).
A woman faces the risk of experiencing postpartum depression if:
She had a mood or anxiety disorder priort to the pregnancy.
She suffered from depression after a previous pregnancy.
She is under the age of 20.
She has experienced a stressful event during the pregnancy (illness, death or illness of a loved one).
She had a difficult, emergency, or premature delivery.
She did not plan or does not want the pregnancy.
She has a alcohol problems, uses illegal drugs or smokes.
She has a dysfunctional relationship with her husband or boyfriend.
She has a history of suicide attempts.
She has financial problems or difficulties.
She was raised in a dysfunctional environment with poor emotional support offered by the parents.
Postpartum Depression Treatment
Treatment includes several options that include psychological counseling, support groups and doctor prescribed medication.. The best results are achieved when the patient follows a recovery plan that includes all the three treatment options.
Psychological Counseling: There are two major forms of psychological counseling that have proved to be effective in treating postpartum depression:
interpersonal therapy and
marital counseling.
Interpersonal therapy is a form of psychotherapy that focuses on the patient's interpersonal relationships and role changing, while marital counseling focuses on solving marital/couple conflicts.
Support Group: A support group offers the comfort of shared experiences among people with the same affliction. It also provides educational and emotional support by decreasing the person's sense and feelings of isolation.
If left untreated, the disorder can negatively affect the well-being of the mother, her relationship with family members, and the child's emotional, cognitive and social development.
If the symptoms occur early (few hours or days after the birth) and are severe, the woman should seek treatment in the early stages of the disorder. If the symptoms occur insidiously and later after birth, the chances that a woman will seek treatment decrease.
- - - - - - - - - - - - - - - - - - - -

Related Information:
//----------###----------//
Do you suffer from Post-Partum Depression? Tired of how it is making you feel? Contact Tulsa Therapist Alina Morrow, LPC-S, today to make an appointment and get the help and relief you deserve. You can reach me by texting or calling 918-403-8873 or by Email.
Page Last Updated:July 24, 2022